Posts for tag: gum disease
By Sean R. Bates, DDS & Associates
November 07, 2018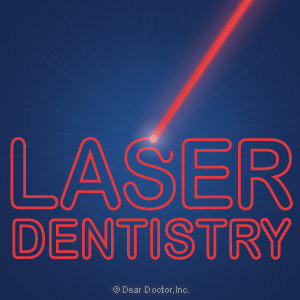 We've developed a number of effective treatments for periodontal (gum) disease. Depending on how far and deep a patient's infection has advanced, treatment can be quite invasive and even require surgery. The more invasive, the longer and more uncomfortable the healing process can be.
But using a medical laser could make that less so. Although its use for gum disease treatment is still in its infancy, the latest observations from the field seem to show patients undergoing laser treatment may have less tissue trauma and bleeding, less discomfort after the procedure and quicker healing times.
Gum disease is a bacterial infection mostly caused by dental plaque, a thin film of food particles that build up on teeth in the absence of effective oral hygiene. The infection can advance deep below the gum line, weakening gum attachment to teeth and destroying supporting bone. Ultimately the affected teeth can be lost.
Traditionally, the only way to stop the disease is to manually remove plaque buildup on teeth and gum surfaces, which is continuing to sustain the infection, with special hand instruments called scalers or ultrasonic equipment. Because it's important to remove as much plaque and diseased tissue as possible, we may need to perform a surgical procedure called flap surgery to move some of the gum tissues out of the way to get to these deeper areas. As with any surgery, this can create tissue trauma that may cause discomfort during the healing process.
Our new alternative is to use an Nd:YAG medical laser in a procedure known as Laser Assisted New Attachment Procedure or LANAP. With light energy delivered through a small fiber no more than the width of three human hairs, the laser can pinpoint diseased tissue and destroy bacteria through intense heat. Because of the laser beam's tiny width and pulsing action, healthy tissue is at less risk for trauma than with the traditional treatment.
Coupled with other techniques, LANAP procedures could remove as much infected tissue and plaque as traditional methods, but with less healthy tissue trauma. In the future, then, patients with advanced gum disease undergoing laser treatment could have less bleeding and discomfort and faster healing times.
If you would like more information on treating gum disease, please contact us or schedule an appointment for a consultation. You can also learn more about this topic by reading the Dear Doctor magazine article "Treating Gum Disease with Lasers."
By Sean R. Bates, DDS & Associates
October 18, 2018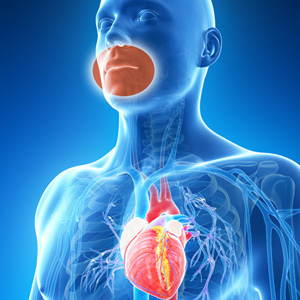 Cardiovascular disease and periodontal (gum) disease are two different conditions with their own set of symptoms and outcomes. But they do share one common element: inflammation. In fact, this otherwise normal defensive response of the body might actually create a link between them.
When tissues become damaged from disease or injury, the body triggers inflammation to isolate them from the rest of the body. This allows these tissues to heal without affecting other tissues. If inflammation becomes chronic, however, it can damage rather than protect the body.
This happens with both cardiovascular disease and gum disease. In the former, low-density lipoproteins (LDL or "bad cholesterol") in animal fat leave behind remnants that can build up within arteries. This stimulates inflammation of the vessel's inner linings, which accelerates hardening and increases the risk of heart attack or stroke.
With gum disease, bacteria living in a thin, built-up film of food particles on the teeth called plaque infect the gum tissues, which in turn trigger inflammation. A struggle ensures between the infection and inflammation, causing the gum tissues to weaken and detach from the teeth. Coupled with erosion of the supporting bone, the risk of tooth loss dramatically increases.
Recent research now seems to indicate the inflammatory responses from these two diseases may not occur in isolation. There is evidence that gum inflammation could aggravate inflammation in the cardiovascular system, and vice-versa. The research, though, points to some possible good news: treating inflammation in either disease could have a positive effect on the other.
Making heart-friendly lifestyle changes like losing extra weight (especially around the waist), improving nutrition, and exercising regularly can help reduce LDL and lower the risk of arterial inflammation. Likewise for your gums, daily oral hygiene and visiting the dentist at least twice a year reduces the risk for gum disease. And at the first sign of a gum infection—swollen, reddened or bleeding gums—seeking immediate treatment will stop it and reduce any occurring inflammation.
Taking steps to prevent or reduce inflammation brought on by both of these diseases could improve your health and save your life.
If you would like more information on how your oral health affects your whole body, please contact us or schedule an appointment for a consultation. You can also learn more about this topic by reading the Dear Doctor magazine article "The Link between Heart & Gum Disease."
By Sean R. Bates, DDS & Associates
September 08, 2018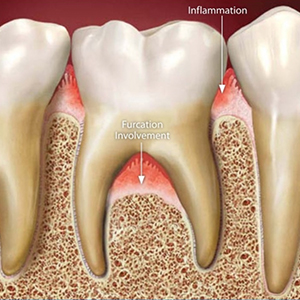 Periodontal disease may start in the gums' superficial layers, but it's not likely to stay there. As the disease moves deeper it can wreak havoc on tooth roots and bone as well as gum tissue attachments. Teeth with multiple roots are in particular peril because of the "forks" called furcations that form where the roots separate from each other. Infected furcations can be very difficult to treat.
We primarily treat gum disease by removing its main source, a thin film of bacteria and food particles called dental plaque that builds up on teeth. To remove it we most often use special hand tools or ultrasonic equipment to vibrate it loose. As the plaque and tartar diminish, the infection begins to wane.
But we can't be completely successful in stopping the disease if any lingering plaque deposits remain. This especially includes furcations where the infection can cause significant damage to the roots. Although cleaning furcations of plaque can be difficult, it's not impossible with the aforementioned tools and antimicrobial substances to disinfect the area.
The real problem, though, is access—effectively getting to the furcations to treat them. We may need to perform a surgical procedure called flap surgery where we create a hinged flap in the gum tissue to move it aside and access the root area beneath. Afterward we replace the flap and suture the tissue back in place.
In some cases, the infection may have already caused significant damage to the tissue and underlying bone. We may therefore need to graft gum or bone tissues to these damaged areas to stimulate re-growth. We may also need to surgically reshape the gum attachments around a tooth to make it easier in the future to access and clean the area.
These additional treatments around furcations can be very involved and labor-intensive. That's why the best outcomes occur if we're able to start treatment in the early stages of an infection. So, if you notice red, swollen or bleeding gums contact your dentist as soon as possible. Treating gum disease as early as possible will help ensure your tooth roots won't suffer extensive damage.
If you would like more information on treating gum disease, please contact us or schedule an appointment for a consultation. You can also learn more about this topic by reading the Dear Doctor magazine article "What are Furcations? Branching Tooth Roots can be Periodontal Nightmares."